Eastside Food Co-op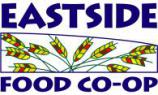 Eastside Food Co-op has been a valuable partner in supporting The Well Place and our mission to foster individualized health reform, one neighborhood at a time. Consider visiting the Eastside Food Co-op at 26th and Central Ave NE. Shop for nutrtitious, delicious, locally grown and organic foods. Become a member and experience the co-operative model at work!
Mission Statement: Eastside Food Cooperative will provide wholesome, high-quality natural and organic food at the lowest possible cost to members, volunteers and customers. The cooperative is committed to building community through volunteerism, neighborhood reinvestment and local participation. Our actions, policies and products will reflect our role as an environmental steward of our planet and will be guided by the Rochdale cooperative principles.
EFC is at the forefront of a prosperous and fair cooperative economy. We provide access to healthy food, foster positive environmental impacts, cultivate a thriving community in our neighborhood, and educate members for a sustainable future.